6

Administrative Logistics

Jennifer Smith
Check to make sure that your course is properly listed in the registration system. Textbooks and other materials need to be selected as well. Save yourself time and frustration by setting up reminders for yourself to check the registrar listing and the textbook adoption information.
Schedule the Course with the Registrar | List the Course Textbook | Request the Canvas Course Shell | Tutorials and Training | Get Help! | FERPA
3-5 Months Before Term:  Schedule the Course with the Registrar
Each department schedules courses within UF's Schedule of Courses.
Check with your department scheduler to be sure they know how to enter it into the system.

If you are teaching a hybrid or a course that meets in Big Blue Button, Zoom, or any other tool, identify the days and times the class will meet synchronously.
The meeting place should be listed as WEB if the class does not physically meet.

Once the schedule has been published, check the Registrar's Schedule of Courses to make sure that all sections of the course are correctly listed (UF Online, resident online, dual enrollment, etc.)

Be sure that the meeting place is listed as WEB in the Schedule of Courses if the class does not physically meet.
UF Online courses are located on a separate page in the student registration system (so as not to confuse students!)
Check to make sure that both resident and UF Online sections of the course are listed with the Registrar. They are listed separately!
3-5 Months Before Term:  List the Course Textbook
Enter your textbook adoptions on the UF Text Adoption site. Information must be entered early enough so that the selections are available to students during advanced registration.  Summer and fall adoptions are generally due towards the end of March. Spring adoptions are generally due at the end of October. State statute requires timely posting of textbook information (no later than 45 days prior to the first day of class).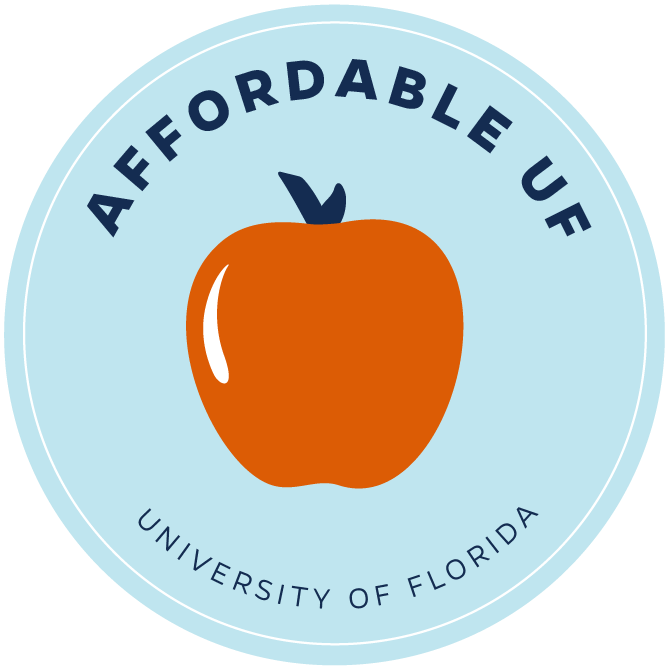 Not using a textbook? Or perhaps are you using Open Educational Resources or Library course reserves?  Then your course can qualify for the Affordable UF Badge.
Visit the textbook adoption site and fill out the form indicating that your course materials cost less than $20/credit hour.
You will receive the Affordable UF badge that can be put on your syllabus and Canvas course site.
The badge will also appear in the textbook listing that students see.
1 Month Before Term or Earlier: Request the Canvas Course Shell
You might think, "I'm not teaching online, so why do I need a Canvas Course Shell?" Canvas can help you to organize your course, communicate with your students, and facilitate your grading.  In short, it can save you time. Just uploading your syllabus, assignment instructions, and readings to Canvas before the start of the semester can save you time when things get busy.
Canvas Course Shell Request
Request your course shell as early as possible. To do this, go to eLearning.ufl.edu > Instructor Help > Instructor e-Learning Course Request from the left menu.  You will need your course section number.  Then, fill out the form.
Request to have anyone who will assist you with course set up or teaching added
IMPORTANT: Be sure to list ALL of the sections that you want in the shell (including UF Online)

Separate the different sections with a comma
1 Month Before Term: Tutorials and Training
Face-to-face classes on how to use Canvas are available through e-Learning Support Services. Class registration is available on the UFIT Training website. You will find that it is VERY helpful for TAs to attend this training prior to the semester they will be assisting with a Canvas course.
Instructure Community provides detailed guides and videos on how to use Canvas. Use the search box to find specific directions quickly.
LinkedInLearning.com has a Learn Canvas 2019 class available online. UF holds a site license for LinkedInLearning.com. To access at no cost to faculty/staff/student, the user MUST use the login link at elearning.ufl.edu (the link is right under the "Log in to Services" button).
e-Learning Support is available to answer questions and provide assistance through e-Learning.ufl.edu, (352) 392-HELP (4357) (instructors select Option 3), or helpdesk@ufl.edu.
For Teaching Assistants
The How to be a Great Online or Hybrid TA is required for TAs who will be assisting with UF Online courses. The workshop will bring your teaching assistants up to speed on the tasks TAs are most commonly asked to do. Most TAs complete this workshop in under two hours. TAs can self-register through the teach.ufl.edu website. To gain the maximum benefit from this workshop, TAs should do this before classes begin for the term.
Get Help!
Save yourself time and ask for help sooner rather than later! Help services are busy the week before classes begin and the week when classes start.
Learning Support Services is available to answer questions and provide assistance through e-Learning.ufl.edu.
Center for Instructional Technology and Training (CITT) can help you create a pedagogically sound, well-organized course. Request assistance from CITT well in advance of the start of classes (a full semester if possible at citt.ufl.edu
Center for Online Innovation and Course Production (COIP)
FERPA
Faculty, staff, and graduate assistants who will have access to student information (such as in the e-Learning system) are required to complete FERPA (Federal Family Educational Rights and Privacy Act) training.
FERPA Basics(PRV802) and FERPA for Faculty (PRV803) are available through myTraining.
You may access myTraining system at mytraining.hr.ufl.edu.
If you have questions or need assistance with the myTraining system, please contact:
UF Training & Organizational Development
Phone: (352) 392-4626
Email: training@ufl.edu
General FERPA information can be found on the Registrar website.