7

Course Planning

Rhiannon Pollard
University of Florida School of Forest Resources & Conservation
Course Design Basics
Instructional design theories abound! Here are a few tried-and-true standards that will help you orient yourself to the process of creating a course.
BACKWARDS DESIGN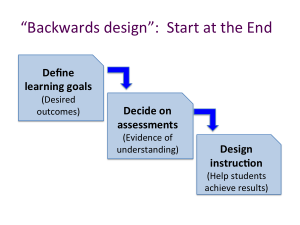 Backwards design refers to the process of determining what you want your students to be able to do at the end of the course before you design your content and plan your delivery.
In other words:
What are they supposed to learn?
How will you know they learned it?
How will you help them learn it?
The question of "what will you teach?" is not the point of the process, because the focus of the course is on what and how the students are learning to do – not what you are teaching.  Backwards design makes designing your courses easier, in fact, because the outcomes will already be there to inform your decisions on both content and delivery methods.
ADDIE (ANALYZE, DESIGN, DEVELOP, IMPLEMENT, EVALUATE)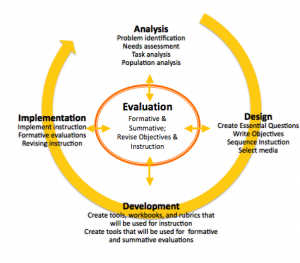 "ADDIE" is one of the most commonly used instructional design theories which is in-depth and in which each step provides an outcome that informs the next step. ADDIE provides an ongoing opportunity to assess and revise your teaching across course offerings.
Always start with your course's student learning objectives. Then, drill down and develop objectives for each module or topic.  When it's time to decide how you will you help your students learn the material, you can refer to the Learning Activities or Resources sections.
Writing Good Objectives
A learning objective is much more specific than a goal. According to Mager (1962), the ideal learning objective has 3 parts:
 A measurable verb (behavior)
The important condition (if any) under which the performance is to occur and
The criterion of acceptable performance.
If the conditions are obvious, they may or may not be stated. However, sometimes the adding the condition(s) and/or the criterion add much clarity to a learning objective.
Objectives should be in the form of describing, from the student's perspective, what they will be able to DO after exposure to the material.
WHAT NOT TO DO…
"Students will understand the hydrologic cycle."
⇒ This fails to address how students will demonstrate learning. It is neither specific nor measurable in terms of the outcome.
BETTER…
"After completing this lesson, the student will be able to evaluate a natural resource policy in terms of its impact on water quality."
"Given a set of statistical data, the student will be able to predict the effects of variables x, y, z relative to fish populations in the Gulf of Mexico."
⇒ Students know what they will be able to do, and you have a clear next step for creating your assessment of this objective.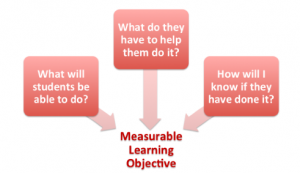 Always keep in mind that the objectives, and what the students are able to do, will need to be directly assessed – so if you say a student "learned" something, how are you going to assess that?
If the objective is, for example, that the student can analyze a water quality sample, you can assess that by having them describe the steps required to do so.

USING BLOOM'S TAXONOMY TO WRITE BETTER OBJECTIVES
Benjamin Bloom (1956) described a way to classify instructional activities as they progress in difficulty.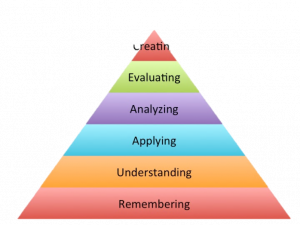 At the undergraduate 4000-level, we want to be at least "applying" and "analyzing" some of the time; if all objectives are simply "explain" or "describe" verbs, we should be questioning the rigor of the instruction.
Graduate courses should focus on analysis, synthesis, and evaluation as much as possible.
Helpful Verbs for Objectives and where they fit into Bloom's Taxonomy
Bloom's Taxonomy Verbs
| | | | | | |
| --- | --- | --- | --- | --- | --- |
| | | | | | Creation |
| | | | | | Design |
| | | | | Evaluation | Plan |
| | | | | Judge | Compose |
| | | | Analysis | Appraise | Propose |
| | | | Compare | Estimate | Formulate |
| | | Application | Distinguish | Evaluate | Arrange |
| | | Use | Differentiate | Revise | Assemble |
| | Comprehension | Employ | Diagram | Score | Collect |
| | Express | Interpret | Analyze | Select | Construct |
| Knowledge | Restate | Dramatize | Categorize | Rate | Create |
| Define | Identify | Sketch | Appraise | Choose | Setup |
| Repeat | Explain | Practice | Experiment | Measure | Organize |
| Name | Recognize | Illustrate | Test | Compare | Prepare |
| Recall | Discuss | Operate | Contrast | Value | Manage |
| List | Describe | Demonstrate | Inspect | Assess | Predict |
| Relate | Tell | Apply | Debate | | |
| Record | Locate | Schedule | Inventory | | |
| Underline | Report | Show | Question | | |
| Outline | Review | Translate | Examine | | |
| Delineate | Summarize | Solve | Criticize | | |
| Specify | | Sketch | Relate | | |
| State | | | Solve | | |
| Label | | | Calculate | | |
| Match | | | Critique | | |
| Avoid the word "understand!" | | | Classify | | |