Technology for Teaching & Learning
What is HyFlex? | Available Technology | Managing Onsite and Online Students | Group Learning Considerations | Combined Onsite & Zoom Discussions | Pre-semester Preparation | References
What is HyFlex?
The term "HyFlex" (Hybrid Flexible) was coined by San Francisco State University to describe a program that offers students maximum flexibility in the choice of learning modality.
"HyFlex courses are class sessions that allow students to choose whether to attend classes face-to-face or online, synchronously or asynchronously. (SFSU Academic Senate Policy S16-264)" (Beatty, 2019)
The main features of this approach are (Beatty, 2019):
At least two full learning paths are combined: classroom and online synchronous and/or asynchronous.
On any given day, students may choose between the learning paths.
The HyFlex format allows students to choose between a physical classroom and an online learning experience. UFIT has installed technology to support onsite and synchronous online students in all Registrar-controlled classrooms.
What are the most important things I can do to prepare for a hybrid-flexible learning experience?
Read Teaching HyFlex: It's a Genre Problem (est. reading time 5:44)
Use your syllabus to plan what onsite and online students will do
Keep in-class activities simple

Use shared notes to track discussion progress (see group learning below)
Check comprehension with iClicker (available at no additional cost to students for spring) or another classroom response tool
Plan for things to take at least 20% longer  online than face-to-face
Ask for student volunteers to help you manage the chat (rotate this responsibility)

Provide a clear learning path in Canvas

Clearly state the purpose (objective), task, and criteria of assignments and activities
View the preparation resources below
Optional: View a sample "Transparent" course (see weeks 1 – 4)

Check-in with your students regularly

At a minimum, survey them during week two to ensure that they have found everything
Regular feedback from your students will help you to meet student needs
Request a consultation with CTE staff–we can save you time and frustration!
Available Technology
Classroom spaces will be outfitted with equipment that is most appropriate for the size of the room. All will have stronger microphones and software to connect with online students via Zoom. Larger rooms will have additional monitors, cameras, and whiteboards, and software to switch between views.
Managing Onsite and Online Students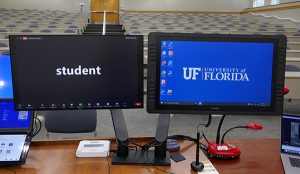 The presence of two monitors will make it easier for instructors to manage Zoom participants on one screen while using the other to present or demonstrate. The demonstration or "SMART" monitor can be displayed to onsite students via the projector. Use the SMART monitor and SMART Ink to annotate PowerPoints, PDFs, or OneNote for all students to see. View the SMART monitor guide.
How can I avoid missing student questions?
It can be a challenge to keep an eye on the Zoom chat while lecturing. If you do not have TA support, ask for student volunteers to monitor the chat (these could be online or onsite students). Because this activity has the potential to split the attention of a student, rotate this responsibility among students, and consider providing a bonus point or two.
How can I be sure to engage both groups of students?
It will be important to consistently check in with both online and onsite students. The methods that you use to do this will vary depending upon your class size.
Add slides to your presentation (if using) to remind yourself to check the chat for questions
Use a classroom response tool to check student understanding

iClicker is available to UF students at no cost beginning this spring

Use student presentations coupled with peer feedback to motivate exploration of a topic
Use the Canvas  scheduler to set up one-on-one meetings with students
Group Learning Considerations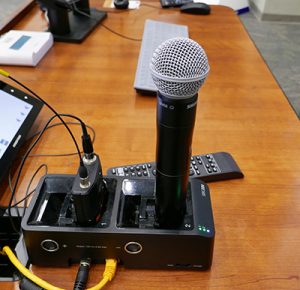 Large lecture halls will have the usual lavalier microphone for the instructor, plus a hand-held microphone that students can use (wipes can be used to disinfect between students). Over-the-ear microphones are available upon request to faculty teaching in large lecture halls. These plug into the belt pack for the room and provide high voice quality when used with a mask. This microphone is yours to keep.
Smaller rooms will have a "puck" microphone that will pick up voices within a few feet. You will need to stay near the mic to be sure that online students can hear them. It is a good idea to test the range during a practice session before the start of classes.
Can onsite students work with online students?
Due to the potential for audio feedback, it may not be practical for onsite students to engage in synchronous small group discussion with online students through Zoom. The viability of grouping onsite students separately from online students will depend upon the size of your class and classroom:
Survey students prior to class start (or during the first week of class) to determine what technology they can bring to class (not all students will have a laptop or tablet, and some tools may not work very well on a cell phone).
The "report out" aspect of group discussion may require some thought (see options under combined discussions below).
Consider asking students to summarize their discussion on a shared notes document (see below).
Students can work via text chat using Google Chat.

One student would need to create a room and invite group members to join.
The app is available for Android, Computer, and IOS devices.
How can I check the progress of online groups?
The audio from Zoom breakout groups will play through the room speakers which means that when you drop into the breakout rooms to check progress, the onsite students will hear the discussion. There are two workarounds for this
You can plug in a different headset/microphone and switch the audio source using the control panel (this will require practice).
You can use a different device such as a tablet or laptop with a headset/mic to go into the breakout rooms.
Use collaborative group notes (see below) for students to document their work.
Have students share the URL to their notes in the chat so that you can check on them.
How can I guide student discussions?
Create a worksheet "template" that provides students with questions or tasks to complete. Giving students a framework to follow will help to keep them on track in the event that you are not able to check on their conversation.
Shared notes documents using GoogleDocs or OneNote creates  a deliverable that students can submit to an  assignment in Canvas

You can also use Google Jamboard or Slides

Use the "force copy" feature to enable students to make their own copy of a notes template (ask them to share the link with you in the chat).
Create a rotating facilitator role (along with guidance on how to facilitate) to empower students to guide the discussion.
Combined Onsite & Zoom Discussions
Depending upon the size of your class and the features of your space, it may require some thought and testing to determine the best way to integrate online and onsite students in discussion. Ask the students in your class to help you test these options to determine what will work best for them and you.
Option 1: Classroom Microphones
The microphone set up varies from room to room. Some spaces have microphones throughout and do a good job of capturing onsite students speaking. If you have a small class, it may be possible for students to come to the front of the room within range of the microphone.
Option 2: Onsite students connect to Zoom from their own device
Before the class meets, determine the best way to mute the room speakers (most likely from the control panel).
Set your Zoom classroom settings to mute participants upon entry.
Ask onsite students to bring a laptop, tablet, or phone to class (along with a microphone if they have one).
Ask onsite students to log in to the Zoom session.

They should keep their speakers turned off.
Their mics should be muted until they need to speak.

The onsite students will be able to hear the Zoom students through the room speakers.
When onsite students need to speak:

Mute the room speakers from the control panel.
Unmute the student who will speak.
Mute the student when they are done speaking.
Unmute the room speakers.
Pre-semester Preparation
A clearly organized learning path will be critical for both online and onsite students. The presence of complete learning materials that are easy to find will help students to feel that they are prepared for the classroom environment, regardless of how they will participate. These suggestions will help you prepare a quality learning experience for all of your students.
References