1

Nuts and Bolts

Jennifer Smith
Administrative Tasks | Internet Setup | Office Setup | Getting Around Campus | Training | Create Your Syllabus | Office Hours | Submit Your Textbook Adoption |  Teaching Technologies | Important Information | First Day of Class Preparation (On Campus) | Good to Know
Administrative Tasks
After you are offered a position the hiring manager for your position will work with you to complete the required paperwork. As soon as you are in the system, you'll receive your UFID number. You'll need this number to set up email and retirement accounts.
Your department's office manager will help you to sign up for the required training.  Things can get pretty hectic, so use the list below to make certain that you don't forget something. Your department (particularly in the health sciences) may require additional training.
Review the information located on UF's Human Resources Welcome website. The sooner you can do this, the better. These details will help you to get acclimated.
Internet Setup
As soon as you have received your UFID number, visit the Identity Services website to create your GatorLink account. You will need the GatorLink username and password to access most online resources.
Connect your wireless devices to UF's Eduroam service
If you run into trouble with this, you can take your device to the UF Computing HelpDesk located on the first floor of the Hub
You can also call 352.392.HELP (4357)
Select a secure GatorLink password and never share it with anyone!
Office Setup
Obtain keys (if needed) from department administrative staff.
In most cases, your office will be selected for you by your department office manager, or your department chair.
Getting Around Campus
The main campus of the University of Florida encompasses 1,000 buildings situated on 2,000 acres – that's about two and a half times bigger than Central Park! On a campus so big it's important to get acquainted your surrounding to reduce stress and make yourself comfortable before your first day. No matter how you choose to get around, UF offers a number of options to help you navigate campus, You can learn more about all of your options for getting around on campus at the UF Transportation and Parking Services website.
1. Identify parking locations with the Campus Parking map website.
2. Obtain your Parking Pass for UF Transportation and Parking Services.
3. Find your classrooms, office and other important locations with the UF Campus map – Obtain keys (if needed) from departmental administrative staff.
Training
Human Resources (HR)
UF Organizational Training and Organizational Development offers many personal and professional development opportunities for UF employees. They offer many programs, but your department's office manager will help you to sign up for any requried compliance trainings. Some departments (particularly in the health sciences) may require additional training. "New Faculty Orientation" is held in August the week prior to the start of classes.
Online Training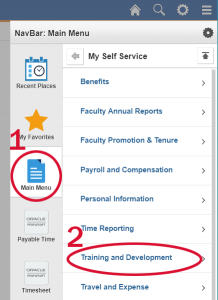 Create Your Syllabus
To facilitate clear communication about courses between students and faculty, the University of Florida requires departments and course instructors to make available for free for each course, a syllabus containing specific information about the structure of the course. Instructors also must submit copies of course syllabi to the departmental office to document compliance with this syllabus policy. Syllabi must be posted at least three days prior to the first day of classes.
Syllabus Resources
Office Hours
Providing students with an opportunity to meet with you one-on-one isn't just a good idea, it is required by Florida Statute 1012.945, the Collective Bargaining Agreement, and University policy.
Your office hour schedule should be included in your syllabus as well as be posted in Canvas and outside of your physical office. Keep the needs of your students in mind when you set up your schedule. Faculty who teach online courses whose students are primarily working professionals will have a better response to time made available in the evenings or weekends.
Faculty are generally expected to make two hours available weekly for each course they teach. It is a good idea to make a by-appointment option available to students with difficult schedules, but this should not be the only option.
Guidance on UF's Office Hours Policies
Collective bargaining agreement.
Submit Your Textbook Adoption
Not all instructors choose and submit their own textbook adoptions, but if you do be aware that Florida state statute requires that textbook information be posted in a timely manner. This means that you must select your textbook and submit your textbook adoption at least 45 days before the start of your course. Doing so gives UF students ample time to source affordable options for their course materials. If your textbook adoption is not submitted on time, your department may be assessed a fee.
Teaching Technologies
Learning Management System (LMS): UF Uses Canvas
UF Apps are Available to Your Students
Microsoft Office Suite, SPSS, Nvivo, R, StataSE, Tableau Desktop, among many others
Technology Selection Assistance is Available!
Important Information
Library Resources
 IMPORTANT: Textbook Adoption Management
Academic Integrity
Registrar
Division of Student Affairs: UF Policies
First Day of Class Preparation (On-Campus)
Visit your classroom(s):
Test the computer:  log in, open all files, access all software
If you will be using your own laptop or mobile device, test out the connections and cables
If you need help, contact Classroom Support  (352) 392-6683
Request a training session with Classroom Support prior to the first day
Test the microphone (if using)
Print out a roster of each class
For smaller courses, print a Photo Roster from your Canvas Course site (located in the left menu)
Good to Know