These are some of the most commonly used technologies for teaching. If you're not sure which tools best fit your needs, contact the Center for Instructional Technology and Training. An Instructional Designer will meet with you to discuss your course and recommend the appropriate technology. The CITT Toolbox provides an overview available tools.
Canvas
Canvas is UF's Learning Management System (LMS). It can be an efficient way to make course material and grades available to your students. It has features that can help you, whether you just want to house a few files or to teach a fully online course.
Video and Multimedia Tools
Whether you are teaching online, hybrid or face-to-face courses, video can enhance your course and help improve student access and retention.
Other Useful Tools
Academic Integrity Online
Sometimes faculty are uncomfortable with moving assessments to an online environment due to the perceived ease of cheating. Unfortunately, some students will cheat regardless of the course delivery method. There is no magic technology that will completely eradicate the problem. Strategies to reduce cheating include:
Inspire student interest in the topic so they want to learn the material.
Discuss what constitutes dishonesty in your specific course as well as your general field of study.

This is particularly important if you have students with different cultural backgrounds.

Help students to develop self-evaluation skills so that they don't underestimate the time it takes them to learn and complete assignments.
Scaffold assignments with interim steps to support steady progress.
Give students low-stakes opportunities to prepare for high-stakes exams.
If a single assessment will comprise 15% or more of the course grade, it is good practice to implement academic integrity tools.
Turnitin Antiplagiarism Checker
Turnitin is available within the Canvas assignment tool. To use, create an assignment and select the online submission type. Then check the box to enable Turnitin Submissions. Click on the Advanced Turnitin Settings to set:
When students can see the originality report.
Which databases to compare with your students' papers.
Items to be excluded from consideration.
Whether to add your students' papers to the Turnitin Repository.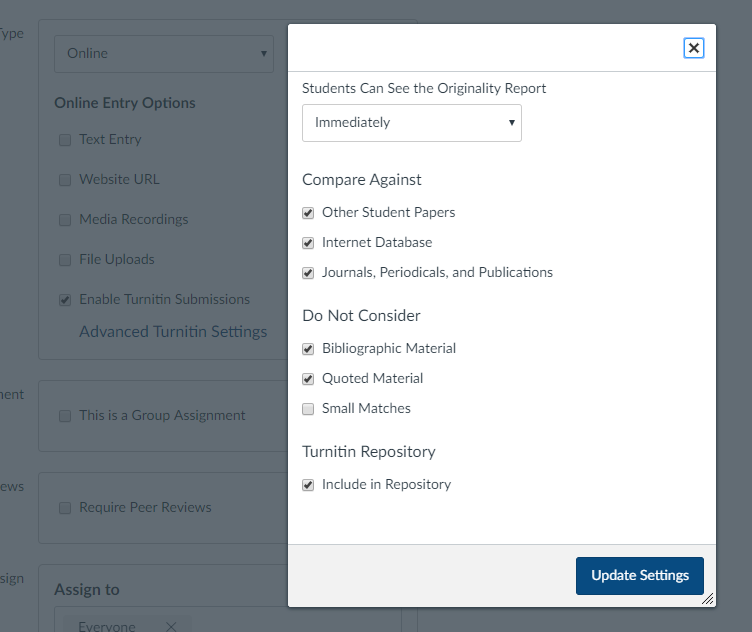 Online Proctoring
When a single assessment comprises 15% or more of the course grade, it is good practice to proctor the exam. If the assessment will be delivered online, proctoring services will authenticate the student and view the testing. Faculty may use the proctoring service of their choice, however, UF has two preferred providers:
ProctorU – Trained proctors watch the student take the test via webcam.

The student is also video recorded for later review by the course instructor, if needed.
Setup is done through a Canvas plugin.
Requires students to register for a time slot in advance.

Honorlock – Video records the student taking the exam.

Searches the Internet for your exam content and files takedown notices to remove the leaked questions.
Keeps students from searching for test answers on a second device during the exam.
Proctoring for UF Online courses is covered centrally. All other courses need to request a Distance Learning or Material Supply fee to cover the cost of the service. Check with your department administrator to request a fee to be added to your course. NOTE: Fee requests are due nearly a full semester prior to the term being taught.
For more details visit the Distance & Continuing Education website. Contact Chris Newsom for assistance or questions.