Preface by Florence M. Turcotte
The letters in this volume represent a portion of the correspondence located in the John D. MacDonald Collection, George A. Smathers Libraries at the University of Florida in Gainesville. The content reflects John D. MacDonald's India-Ceylon experience in the U.S. Army in World War II, as well as the difficulties of wartime separation of husbands and wives. They reveal how John and his wife Dorothy (aka Dordo) dealt with the personal concerns and themes of their lives, separately and as a married couple. The originals of the letters herein are contained in four archival document cases in the collection. The entire collection is comprised of 199 boxes of material, with the personal and business correspondence series alone totaling nearly 80 boxes.
MacDonald was a prodigious letter writer, and this wartime correspondence with Dorothy reflects a commitment to written communication for both of them. It should be noted, however, that Dorothy wrote twice as many letters as John during the war. She let her frustration about that be known in her letters. War correspondence between those at home and those in the service suffered from irregular deliveries. It was not unusual for Dorothy to receive three of four letters from John at once, as did John from Dorothy. One unfortunate result was that misunderstandings could easily take place, as will be seen in the letters.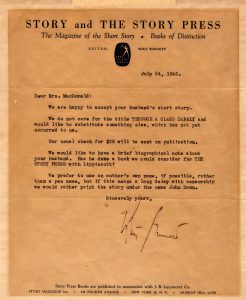 During the War, John D. MacDonald was initially stationed in Rochester, NY. His commanding officer saw potential in the young lieutenant and decided to take John with him to the India-China-Burma Theatre in 1943. MacDonald served as Ordnance Officer for the Office of Strategic Services (OSS), the pre-cursor of the CIA. His duties did not include intelligence gathering, however, and were primarily of a bureaucratic nature. In February 1944 he sent a short story to Dorothy, who without his knowledge, submitted it to Story magazine where it was bought for $25.00.
He arrived home after his discharge from military service in 1945, and when Dorothy showed him the check and told him he was a published author, he decided to become a full-time writer. He had always thought that writers were born with that talent; being published changed his mind.
That first short story, "Interlude in India," appeared in Story magazine in the July/August 1946 issue. He continued selling his short stories to magazines, and in 1950 published his first novel, The Brass Cupcake. By the time of his death on Dec. 28, 1986 he had written nearly 450 short stories, and published 78 books. MacDonald described his work habits in this way:
"How do I work? I get up at about eight-thirty and have juice and coffee and an hour of reading and then plant seat on chair. Take a one hour lunch break and then back to it. Knock off at three or four or five or six, depending on how well it went. . . I have worked on and off for a year on a book, and I have done one in seven days."
MacDonald is best known for his color-coded suspense novels (The Deep Blue Goodbye, Free Fall in Crimson, Nightmare in Pink, The Girl in the Plain Brown Wrapper) featuring the resourceful "salvage expert" Travis McGee. Early on, MacDonald and his publisher established this color-based system in order that readers might more easily remember the novels and whether or not they had read them.
McGee lives on a houseboat called "The Busted Flush" (he won it in a poker game), located in slip F-18 at the Bahia Mar Marina in Fort Lauderdale. McGee undertakes to recover for its rightful owner money or property of which the owner has been wrongfully deprived and has no other hope of recovering, taking half its value as his fee. The money is used to continue his lifestyle of sun, sailing, fishing and partying with beautiful women. The McGee character became beloved by those who wished to emulate him.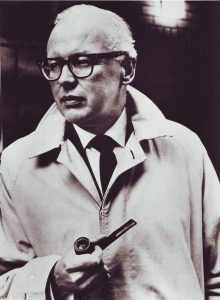 MacDonald fans sometimes conflated the McGee legend with the real John D. MacDonald. The author was not averse to cocktail parties and good times, but maintained a workman-like approach to writing. As a founding member of the Liars Club in Sarasota, he met with MacKinlay Kantor, Richard Glendinning and other writers every Friday afternoon to share ideas and unwind. MacDonald's pipe, his cigarette lighter, and his trench coat became part of his signature look.
MacDonald was a very self-disciplined and extremely productive writer. His biography, written by Hugh Merrill in 2000 is titled The Red-hot Typewriter for good reason. He was given the Grandmaster Award in 1972 by the Mystery Writers of America; The American Book Award (1980); the Ben Franklin Award (1955); and was Guest of Honor at the Mystery Writers of America Annual Bouchercon in 1983. Numerous other distinctions, including Honorary Doctorates from Hobart and William Smith College and the University of South Florida were awarded to him also.
*****
The John D. MacDonald Collection was partially processed by Special Collections staff at UF upon its original deposit by the author in the 1970s. Additional processing occurred in the late 1980s and 1990s after the Collection was formally gifted to the Smathers Libraries upon MacDonald's death in 1986. In 2008-2009, the Collection was totally re-housed and rearranged to improve access.
During that 2-year period, when the materials were being sorted and described in more detail, we made an astounding discovery. We found a shoe box covered in contact paper and marked "overseas letters" in Dorothy's handwriting, and crammed full of air-mail envelopes.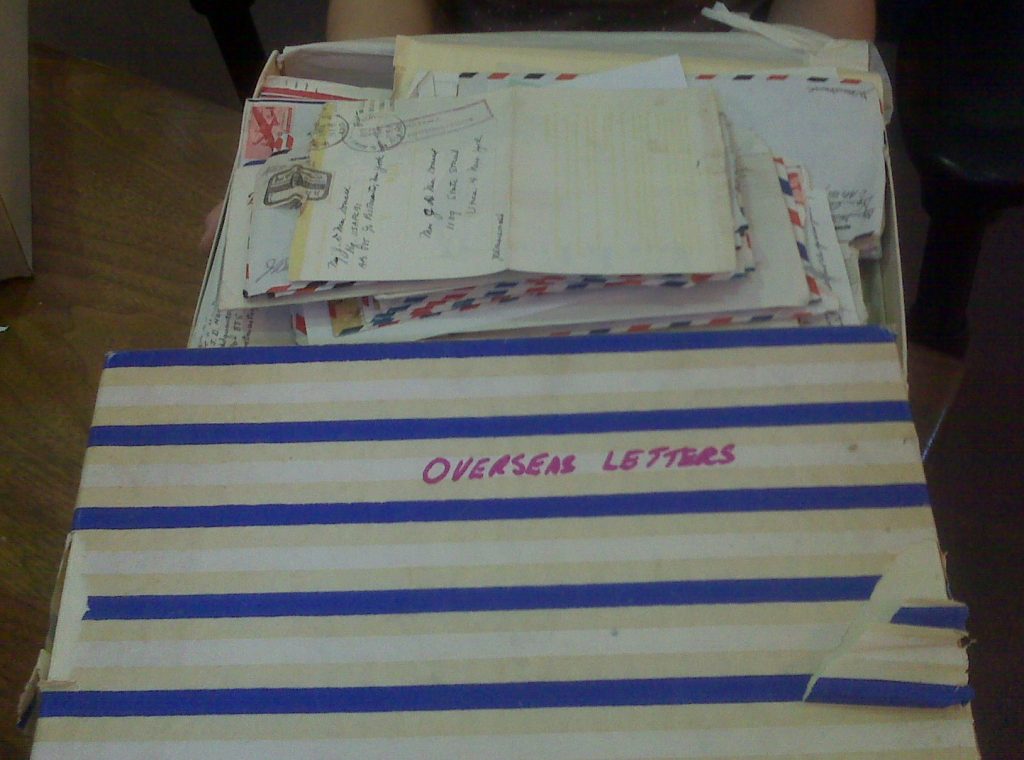 As it turns out, this was a collection of the back and forth correspondence between MacDonald and his wife Dorothy when he was working for the OSS in the India-China-Burma theatre during WWII. Each of these more than 400 letters were opened, flattened and put in an individual acid-free folder. They were then sorted in chronological order and filled four manuscript boxes just by themselves.
Fellow editors Cal and Nola Branche undertook the task of transcribing the letters into text documents. In many instances they needed to use a magnifying glass to decipher Dorothy's handwriting, especially when she used V-Mail and had to make use of every possible millimeter of space for writing.
During the initial period of sorting the letters, we of course paused to read some. As we did so, we found some references to marital troubles during 1943 and some of the letters back and forth were very intense. At this point, we realized that this story needed to be told. Not only did we have the juxtaposition of the Theatre of War/Home front perspectives, but we pieced together the story of how John, distracted and bored with army bureaucracy, the stifling heat and loneliness, may have become enamored of the British departmental secretary assigned to his unit.
Although we never found a confessional letter, his wife Dorothy, with an almost uncanny insight, noticed immediately when he began to sign his letters with just a "J" and not "love, John". She refused to play the role of the understanding and forgiving doormat spouse who overlooked her husband's transgressions. The letters back and forth got really interesting, as she showed a great deal of insight into her husband's personality and habits. A fair amount of guilt was heaped on for good measure. He had to grovel a bit in order to get back into her good graces. Their situation came to exemplify the struggles of countless other couples separated during wartime, trying to keep their families together.
The letters are presented in chronological order. The abbreviations ALS (autograph letter signed) and TLS (typed letter signed) or V-mail, telegram, etc. help give the reader a sense of the physical characteristics of the original message. Undated letters were inferred using the postmark on the envelope. John and Dorothy agreed early on to number their letters, and that could another indicator of possible missing letters, or simply skipped numbers. Some numbers were used more than once, and we attempted through the content or postmark to determine which came first. Of course, both of them pointed out at various times that they received entire bundles of letters at one time, going for extended periods without receiving any letters. Dorothy seemed to be particularly distressed when this occurred. Obvious typographical and spelling errors in the letters have been silently corrected, and curious uses of certain terms or expressions are left as is. The published letters are numbered sequentially in this volume by the editors, and are not the MacDonald's numbers.
As editors, we had to make some decisions about what to include and what not to include in the volume. There were more than 400 letters, and we decided to publish only 175 of them. Letters were omitted in some cases because of irrelevant material or pedestrian content. Because the letters were numbered sequentially, there is evidence that some letters were lost in transit, destroyed, or otherwise may not have made it to the archive. We have provided editorial notes when necessary and a glossary at the end to help identify a person referenced or to provide background information.
Every attempt has been made to minimize confusing distractions from the central narrative of the communication between husband and wife in order to let their voices be heard by the reader. We hope that you enjoy this glimpse into the lives of this extraordinary couple in extraordinary circumstances, realizing that similar scenarios played themselves out in the lives of Americans at home and abroad during World War II.