Do it Yourself Projects
These projects are all about finding fun, easy and cheap ways to make things at home! Especially in such a small place like a dorm room, it is important to find ways to store stuff in a cute and fun matter. Everyone who goes to college soon realizes the drastic change of being on a "college budget". Trying to adapt to the new lifestyle and ways of life in Gainesville can be difficult. But by making your dorm room a nice place to live in, can seriously improve your experience. All of these projects come down to improving the Gator experience and spirit! Because many different materials are needed for these DIY projects we first want to talk about some places to go in the Gainesville area to find affordable things.
Repurpose Project

Some of the main perks of "doing it yourself" for your dorm decor is being able to make something that is unique and cheap. Before you head to one of the craft stores, we recommend checking local thrift stores first to see if they have the materials on hand. The Repurpose Project, a store unique to Gainesville, is a non-profit that is dedicated to keeping objects from ending up in the landfill. They have a plethora of random objects and the best part is, they allow you to name your own place. This is a great way to help save the planet AND your wallet with all your crafting projects.
Dorm Room Hacks and Decorations
As you start planning to move to your new home, here are some tips and tricks to help make the most of your space. Pinterest is a great place for inspiration on how to create some really cool decorations and organization tools. A few of our favorites are listed below, but feel free to find your own!
Hanging Shelf

Microwave Heating Pad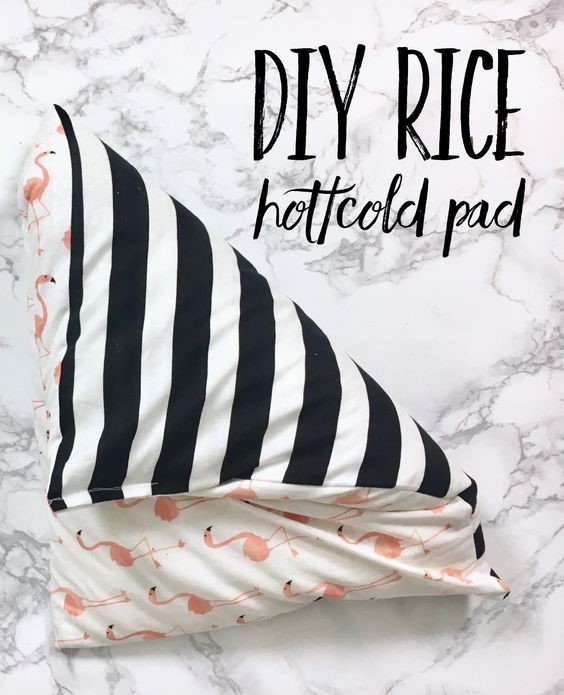 Pinboard for Room

Cord Box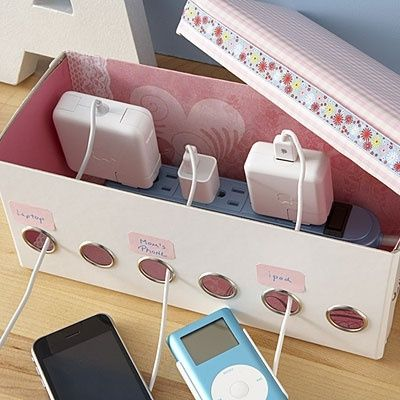 Cord Organization
More Organization Ideas

Game day Attire on a Budget
All college students love free t-shirts, but they don't always look the best. Here are are a few tips and examples on how to bring your shirt game to the next level. We've shown a step-by-step on how we turned our "Swamp is Back" shirt into an awesome shirt for game days. Feel free to use the tips below on any shirt, such as the UF2021 shirt you will get at Preview!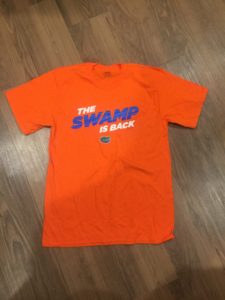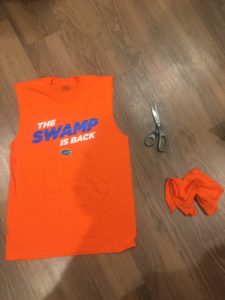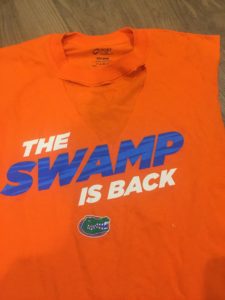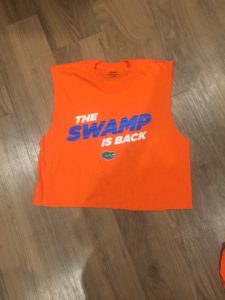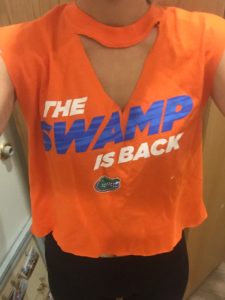 Tips from Nikki B
Nikki Blum, a University of Florida student, owns a clothing brand called "Nikki B's College Tees" and we came up with some awesome tips on creating your own t-shirt after talking with her!
Any shirt can make an awesome tank top, just braid or twist the excess fabric in the bank to make a cool halter or racerback tank!
Add cool lace, ribbon, or zippers to give your shirt an extra "wow" factor. Sewing these materials on will make them last longer, but hot-gluing will also work!
 If you have any super large t-shirts, you can turn them into a dress instead of cutting a ton of the fabric.
Bleaching is a new trend that totally can change the style of a shirt; if you don't like the design of a shirt, try bleaching it!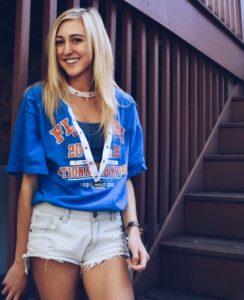 Works Cited
https://www.instagram.com/nikkibscollegetees/
http://www.repurposeproject.org/
"5 DIY Desk Decors for Your Home Office – Ann Le Style." Ann Le Style, 2 July 2016, www.lifeannstyle.com/2016/07/5-desk-diy-decors/.
"15 Unexpectedly Brilliant Home Decor DIYs." Industry Standard Design, 28 Oct. 2017, industrystandarddesign.com/15-unexpectedly-brilliant-home-decor-diys/.
Ko, Janine. "16 Easy DIY Dorm Room Decor Ideas." Her Campus, 18 July 2016, www.hercampus.com/life/campus-life/16-easy-diy-dorm-room-decor-ideas.
Mahoney, Erin. "15 Dorm DIY Projects That Will Make The Whole Floor Jealous." Society19, 21 Mar. 2017, www.society19.com/15-dorm-diy-projects-will-make-whole-floor-jealous/.