Module 5: Management and Prevention of Disease Outbreaks
The cornerstone for stopping further spread of infection is creation of a clean break. This is defined as protection of unexposed animals and new arrivals from exposed or infected animals by housing them in a segregated area. As housing choices for "clean" animals are likely limited due to need for isolation and quarantine, the key for creating a clean break is implementation of intake diversion strategies to stop or reduce the admission of new animals.
Housing Options for New Admissions
Best option: no admission of new animals
Better option: separate building for new admissions
Good option: separate ward for new admissions
Not a good option: one end of the ward where quarantined animals are housed
Ideally, no new animals should be admitted until the disease outbreak is resolved. This is feasible for private, nonprofit shelters with controlled admissions.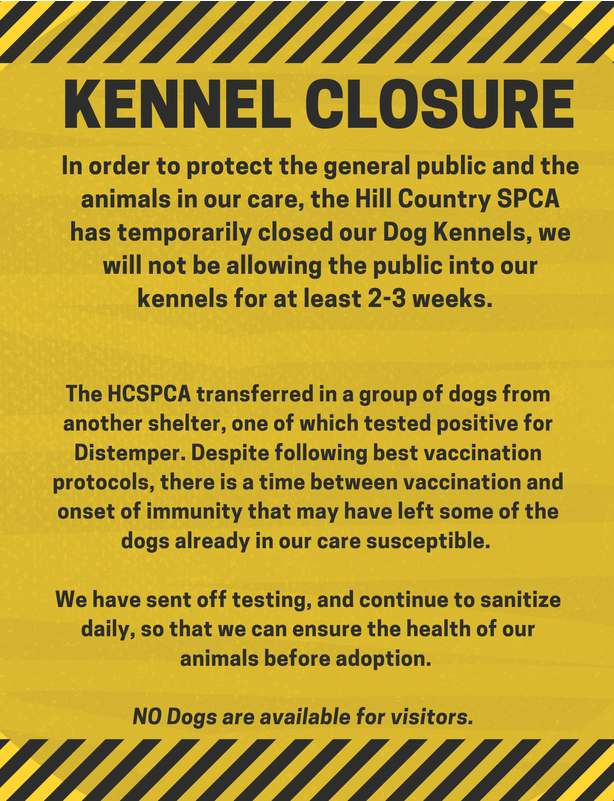 This is not feasible for municipal shelters with animal control contracts requiring admission of sick and injured animals, animals for rabies quarantine, dangerous animals, and animals from cruelty investigations. While municipal shelters must admit animals in these categories, they can temporarily discontinue admission of owned pets, transfers from other shelters, and bringing in healthy free-roaming animals that are not a public health threat. The pet owners and finders of healthy stray animals can be diverted to other groups or shelters, or asked to keep the animals until the outbreak is resolved. During this time, these animals can be vaccinated to establish immunity to CDV, CPV, and FPV while awaiting surrender to the shelter. New admissions can also be moved directly into foster homes.
Intake diversion strategies for municipal shelters:
Temporarily stop intake of surrendered pets.
Restrict intake to minimum legal requirement (injured or ill strays, rabies quarantine, dangerous dogs, cruelty cases).
Discontinue picking up healthy free-roaming animals that are not a public threat.
Have animal control officers try to reunite free-roaming animals with owners first instead of bringing them directly into the shelter.
Here are other innovative solutions municipal shelters have used for creating clean break housing to protect new animals from exposure:
Partner with other shelters that agree to receive new admissions pending resolution of the outbreak.
Arrange for temporary off-site housing such as empty commercial warehouses for new admissions.
Utilize housing resources provided by local or national emergency/disaster response groups. These groups have mobile tractor trailers or tents containing temporary housing units and even provide staffing to assist with care of the animals.
In conjunction with intake diversion, population management strategies should focus on moving the "clean" animals out of the shelter as quickly as possible to keep the shelter from getting crowded. Litters of puppies and kittens should be placed for adoption or transferred to rescue groups and foster homes immediately at intake to reduce the number of vulnerable animals on-site.
When is the Disease Outbreak Over?
By convention, a disease outbreak is declared over when a period of twice the incubation period of the pathogen has elapsed without identification of any new cases. However, for pathogens with short incubation periods of ≤1 week, a period of three times the incubation period is preferred.