Module 3: Healthcare practices for common medical conditions in shelters
Pain Management in Shelters
Dr Wright has been very busy writing SOPs for handling after-hours emergencies and common medical conditions at Gatorland Animal Services using best practice guidelines. While treating some cases, she noted there was no consistency in methods to identify and treat painful conditions. A best-practice pain management SOP is next on her list to write.
Review the pain management recommendations in the 2022 ASV Guidelines Medical Health Chapter 6.
Key Takeaways from the ASV Guidelines about Pain Management
Pain must be recognized and treated to alleviate suffering.
Failure to provide treatment for pain is unacceptable.
Pain treatment protocols should  be created by a veterinarian.
When pain is anticipated, pre-emptive pain control should be provided.
When adequate pain relief cannot be achieved, transfer to a facility that can meet the animal's needs or humane euthanasia must be provided.
Recognizing and alleviating pain is a professional obligation (''the relief of animal pain and suffering'' in the Veterinarian Oath) and a key contributor to successful case outcomes. Inadequate diagnosis and treatment of acute pain can cause serious prolonged physiologic and psychologic consequences. Proper pain management is a continuum of care that includes anticipation of painful events, early intervention, and evaluation of response to treatment on an individual-patient basis.
Review the 2022 AAHA Pain Management Guidelines. These Guidelines provide evidence-based best practices for anticipating and managing pain with both pharmacologic and nonpharmacologic modalities.
Key Takeaways from the 2022 AAHA Pain Management Guidelines 
Acute pain is defined as pain associated with inflammation and tissue damage from injury, surgery, or other medical conditions, including the first 3 months of the healing process
Pain assessment should be a routine component of every physical examination, and a pain score is considered the ''fourth vital sign,'' after temperature, pulse, and respiration
Behavioral changes are currently the principal indicator of pain and its response to treatment
There are various evidence-based and clinically validated tools for scoring pain in both dogs and cats
Opioids are the most effective drug class for managing acute pain and should be used as a routine preoperative drug, preferentially in combination with a tranquilizer/sedative
Nonsteroidal anti-inflammatory drugs (NSAIDs) are a mainstay for management of acute pain as long as there is no contraindication based on patient clinical status
Local anesthetics contribute to effective perioperative multimodal pain management and should be utilized with every surgical and dental procedure when applicable
The key in treating pain is to first identify if a patient is experiencing it by using a pain-scoring tool. These tools evaluate several patient behaviors from a distance and how the patient interacts with the observer and responds to palpation of nonpainful and painful regions. The most commonly used by practitioners are the CSU Canine Acute Pain Scale and the CSU Feline Acute Pain Scale. Pain is scored from 0 (no pain) to 4 (severe pain) based on body position, response to palpation, and vocalizations.
Recently, a new pain-scoring tool has been developed and validated for use in assessing acute pain in cats based on grimacing. Grimace scales use simple methods to evaluate a set number of facial characteristics associated with pain. The new Feline Grimace Scale assesses ear position, eye squinting or closure, muzzle tension, whisker position, and head position. Each of these 5 facial features is scored from 0 (absent) to 2 (obviously present). The cat is considered painful and in need of treatment if the total score is at least 4/10.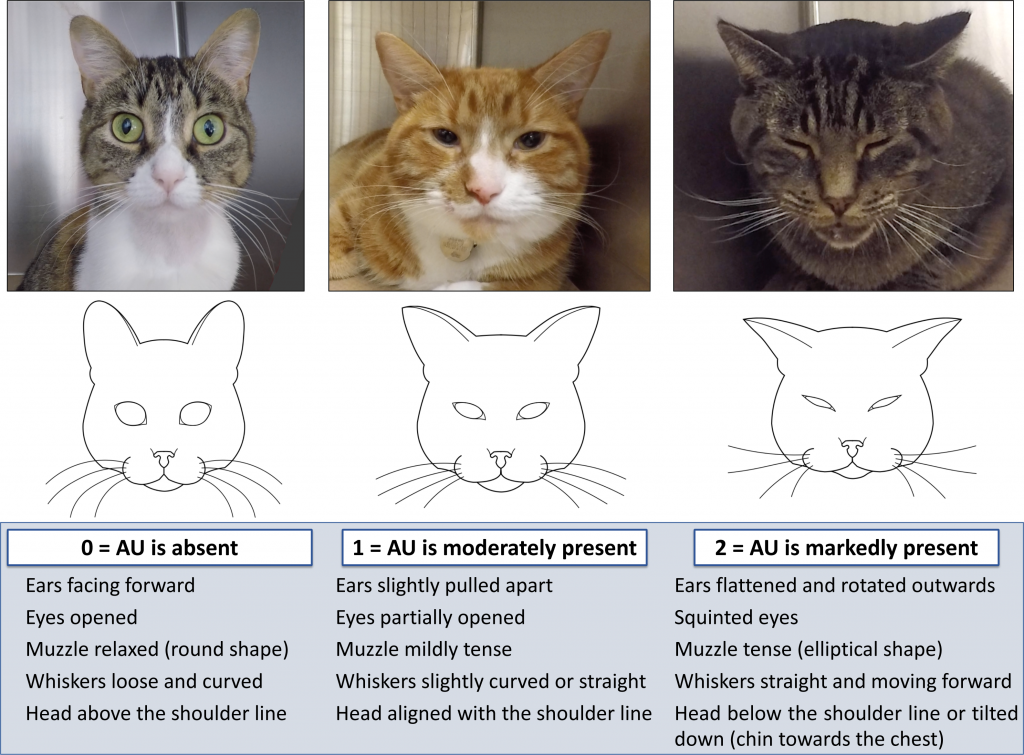 Here is the pictorial guide for use of the Feline Grimace Scale.