Technology for Teaching & Learning
39

Overview of Tech Tools for Teaching

Lauren Weisberg
Technology has the potential to support student learning in both asynchronous and in-person academic settings. Instructors now have the ability to utilize a plethora of technology tools that are available online for free. Think of a "tech tool" as any digital technology facilitated with a computer or mobile device that supports student learning. Using tech tools in your instruction can provide numerous benefits, such as:
Increased student engagement
Authentic learning opportunities
Increased collaboration (among peers, and between students and their instructors)
Real-time assessment data
Active student participation
Which tech tools are ideal for your curriculum? This chapter provides guidelines for evaluating the strengths and weaknesses of tech tools and recommends specific tools that can be easily incorporated across curricular areas to support student learning.
Should I Use That Tool?
Before using a tech tool with your students, it's best to consider whether or not it will meet their needs. These tools can be evaluated for their appropriateness using the following methods.
Evaluation Rubric
The criteria in this rubric can be used to evaluate a tech tool's strengths and weaknesses. The rubric does not identify a specific threshold that tools must meet in order to be acceptable for use but is rather intended to aid instructors in making well-informed decisions.
Rubric for eLearning Tool Evaluation
Criteria
Works Well
Serious Concerns
Functionality
•Can accommodate any class size, and ideally form subgroups
• Has user-friendly interface
•Has a robust support platform (or campus support can help)
•Communication allowed through different channels (audio, visual, textual)
•Restrictive to a limited number of users
•Interface is cumbersome, unintuitive, rigid, and inflexible
•No tech help or documentation available
•Restrictive in terms of communication channels employed
Accessibility
•Meets accessibility guidelines
•Addresses the needs of diverse users and various capabilities
•Does not require what is beyond typically available to students and instructors (comp. w/mic, Internet…)
•Can be used for free
•Fails to meet guidelines, or has no compliance information
•Restrictive in meeting the diversity of needs reflective in the student body
•Proper use requires equipment investment
•Requires a fee or subscription
Technical Features
•Can be embedded or fully integrated with the LMS (i.e., accessible via Canvas)
•Can be used with any standard, up-to-date system
•Works within any Internet browser (i.e., Chrome, Firefox, Edge, etc.)
•No software downloads necessary
•Can only be accessed through an external hyperlink
•Can only be used on one type of system (i.e., iPhone vs. Android)
•Doesn't work in every browser
•Requires browser extension or other software download
Mobile Design
•Can be accessed with any mobile device; can be easily viewed on a smaller screen
•Little to no functional difference between mobile and desktop versions
•Offers an offline mode
•Access is limited or absent on a mobile device, or is not properly formatted for the smaller size
•Mobile app functions poorly, and core features are unreliable
•Cannot be used in any capacity offline
Privacy and Data Protection
•Doesn't require the creation of an external account or login
•Users maintain ownership and copyright of their intellectual property/data
•Can save, archive, or import/export content
•Must provide personal information to a third party to create an account
•Users forfeit ownership and copyright of data; data is shared publicly
•Cannot save, archive, or import/export content
Social Presence
•Easy-to-use features improve an instructor's ability to be present via active management, monitoring, engagement, and feedback
•Easily customizable to suit classroom context and learning outcomes
•Instructor can monitor learners' performance on a variety of measures
•Has not been designed to support an instructor's ability to be present with learners
•Cannot be customized
•Does not support the collection of learning analytics
Cognitive Presence
•Enhances engagement in targeted tasks that were once overly complex or inconceivable through other means
•Easily facilitates the exercising of higher order thinking skills
•Learners can regularly receive formative feedback (i.e., tracking their performance)
•Acts as a direct substitute with no functional change to engagement in targeted tasks
•Does not engage learners in higher order thinking
•No opportunities for formative feedback
This adapted version of "Rubric for eLearning Tool Evaluation" by Lauren M. Anstey & Gavan P.L. Watson is licensed under CC BY-NC-SA 4.0.

Implementation Framework
The SAMR Model was created by Dr. Ruben Puentedura to assess how technology is used in instruction. "SAMR" stands for Substitution, Augmentation, Modification, and Redefinition. The model is intended to be viewed as a spectrum: On the "Enhancement" end, technology can be used as a replacement for traditional tools (e.g., writing a term paper with a word processing program instead of paper and pencil), while on the "Transformation" end, technology can enable educational experiences that are otherwise inconceivable (e.g., sharing digital content you've created on a blog or social media for public consumption). While it is certainly appropriate, and at times necessary, to "Enhance" your instruction with technology, consider how you might instead "Transform" your students' learning with technology.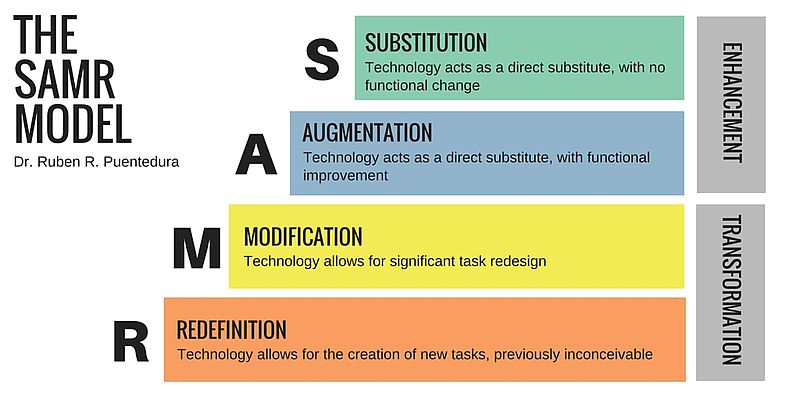 For a more detailed explanation of the SAMR model, visit this article from Schoology: SAMR Model: A Practical Guide for K-12 Classroom Technology Integration.
Tech Tool Suggestions
The tools in this list can engage students in active learning experiences in both synchronous face-to-face and online settings and online asynchronous settings. Each tool exhibits the strengths outlined in the evaluation rubric and has the potential to transform instruction per the SAMR Model. These tools' ease of use and free access has made them popular options for instructors across disciplines and technology comfort levels. If you consider yourself a novice when it comes to teaching with technology, start small by choosing just one of these tools to explore and integrate into your instruction.
Capture student feedback instantly during instruction with a variety of poll styles. When students respond to a question via their mobile devices or computers, their results appear in live time.
If you wish to provide points for in-class questions, iClicker is now available at no cost to UF students. It can be set up to sync points with Canvas.
This interactive and collaborative whiteboard tool is located within Google Workspace. It enables users to write text or insert sticky notes, images, and shapes.
Visit the Modified HyFlex Teaching chapter for details about integrating shared documents into class discussion.
NOTE: The Google Jamboard app is not fully accessible to students using a screenreader.
Engage students in active assessment by using this game-based learning platform. Instructors can create, share, and play learning games (like trivia quizzes) with the class in real-time. Students can play as themselves or anonymous avatars and can view their progress after each question.
This tool allows users to post short video reactions to class discussion threads. Users can customize their videos with fun features such as filters and emojis. Instructors can create "grids" organized by topic to facilitate student discussions.
Instead of that extra term paper, have your students create a poster or infographic. Students will be pleasantly surprised by how easy it is to create professional-looking content and will look forward to sharing their creations with others.
This easy-to-use creation and editing tool makes it easy to make short videos, web pages, and social graphics on any subject. Use it as a mobile-friendly, free alternative to Adobe Create Suite.
The sky is the limit!
Note: Sway is Microsoft's version of Express, and is one of the tools available through UF's Office 365 licensing.
While these tools provide a solid starting point for integrating technology into your instruction, there are many more out there to explore! As technology continues to evolve, a quick Google search can generate updated lists (like this one) of the most popular and recommended tech tools for the classroom. Although many of these resources promote tools for K-12 classrooms, most are also appropriate for higher ed classrooms.
Visit the
UF Instructional Tools
page for a list of apps that have been vetted by UF Privacy and Security offices. Use caution when using tools that are not on this list. Remind students not to use their Gatorlink username and password for any non-UF access.