Online Teaching and Learning
31

Video Lecture Recording

Jennifer Smith
You probably already show some professional video to help students better envision certain aspects of your discipline. Is it worth the time and effort that it will take to create your own videos? Generally, the answer to that question will depend upon the needs of your students and the course objectives.
Benefits of Video | Maximize Your Student Connection | Virtual Field Trips | References
Benefits of Video
First of all, video can help students to remember key concepts. Just as with a face-to-face lecture, telling a story or relating to your personal experience can help to make information memorable.
Second, videos can help humanize your course. They record your body language and make it possible for you to share your passion for the subject matter. This is important. Because if you're not excited about the course, you can't expect your students to be. This is particularly useful in online courses where students can feel isolated. And finally, video can give your course "personality."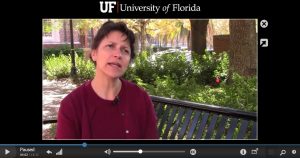 Often, videos are used in online courses to communicate information as you would through a live lecture in class. In fact, because you can bring in graphics and diagrams, it may be easier to explain a difficult concept. Video can be an engaging way to pose a problem to your students. Through the magic of video, you can bring the experience of an expert in the field to your class more easily than to the physical classroom.
Students like videos because they are convenient. They can watch them on their smartphone while they wait for the bus or stand in line. They are also an efficient use of time because the students can speed up the video or skip through the parts they already understand. Students can also go back and review concepts over and over. Finally, you can link to the videos right in assignment instructions for easy access when the students need it.
Maximize Your Student Connection
To get the biggest bang for your efforts, your video should help you "connect" with your students. This is easier in some disciplines than others. Typically, sharing a personal story is a good way to do this. Humor is another good way to pull students into your topic. Regardless of what you do, be enthusiastic. It is your energy and passion that will keep students watching.
Michael Wesch points out the difference between "connection" and "performance" in his video, "Super Simple Videos: 5 Tips & 5 Reasons to Get On Camera."
Occasionally an instructors will ask if it is really important for them to actually appear in the video. The answer to that is generally yes. Video can be a good way to humanize your course and give it "personality." If there's no "person" in your presentation it's more difficult to communicate the excitement and enthusiasm that you have for the topic. Remember that your facial expressions and gestures are part of your communication.
Many students simply prefer to see the presenter. In fact, Professor Dan McFarland at Stanford did A/B testing with Coursera to determine whether seeing the instructor's face was conducive or non-conducive to student learning. The students who did not have the instructor's face complained so bitterly that they had to stop the test and allow all the students to see the instructor.
Virtual Field Trips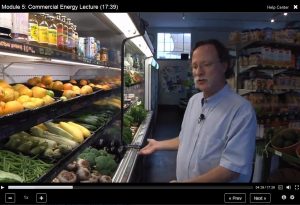 You can take a cellphone anywhere, so teaching no longer needs to be confined to a classroom location. For example, Dr. Wendell Porter was able to walk his class through the energy usage in a grocery store. This would have been tough to set up as a field trip, but very effective as a video.
The Center for Instructional Technology and Training provides location video services for UF Registrar courses.
References
Hibbert, M. (2014). What makes an online instructional video compelling? Educause Review.
Kizilcec, R. F., Bailenson, J. N., & Gomez, C. J. (2015). The instructor's face in video instruction: Evidence from two large-scale field studies. Journal of Educational Psychology, 107(3), 724-739. http://dx.doi.org/10.1037/edu0000013